I WILL BE HAPPY WHEN….by Rachel Joffe the Thera-patient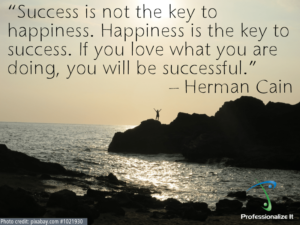 I will be happy when I lose weight…..
I will be happy when my bills are caught up….
When I reach my quota, I will be happy….
I just need to get through this week, then I can relax….
Ever wonder why happiness does not come at the end of the journey? So many of us tie our happiness into the final outcome. The truth is, that final outcome only couples with another goal and we never seem to feel successful. It is easy to focus on what we aren't rather than what we are. It is easier to identify what is bad and broken, rather than what is good and working. We often do 10 good things and cancel them out with the one mistake. I am not here to figure out why but I know one thing to be true- whatever you focus on, you will get. I am obsessed lately with the simplicity of Shawn Achor who came up with a few Happiness Guidelines that can improve your outlook in about 2 minutes a day. The key to each is to attach the meaning of why they mean something to you. For all that are interested I am sharing the suggestions: Hope that you join the challenge of doing this initially for 21 days.
Happiness Hygiene- Adapted from Shawn Achor- Word
Renowned Happiness Expert
5 Daily Practices- You only need to do one daily to feel a shift but you could do more than one of you would like.
1- Gratitude List: Come up with three NEW things that you are grateful for every day and the reason that you are grateful. (2 minutes)
They cannot be generic such as one word answers. Ex: I am grateful for my health, family and friends. Rather, they have to be different daily, specific of what you liked and you have to share why it had meaning to you. . An example would be:" I am so grateful that I was able to walk for 30 minutes today and feel present while I walked" This is meaningful to me because often I distract myself with guilt for not completing an item on my list and today I just enjoyed my walk."
2- Journaling: For 2 minutes a day think of one positive or meaningful experiences that you have encountered and write it down. Then add three bulleted details about the event. Then read it back to yourself out loud.
3- Fun Fifteen: Engage in 15 minutes of fun mindful cardio activity daily or 3 days per week. After six months it is the equivalent of taking an antidepressant and it lowered relapse of depression by 30%. It is not to say that you should come off antidepressants but it is seen as a gateway to better overall behaviors.
4- Meditation for 2 minutes a day: Take two minutes a day to stop and focus on your breathing for two minutes.
5- Create a happiness habit that interconnects you to others: Every day send a two minute positive text message or email (2-3 lines) praising or thanking someone for a strength that they have or something that you are grateful for or for something about them that you like or for something that they did that had an impact on you. Try to find new people to do this for. You can even do it for a stranger if you observe something